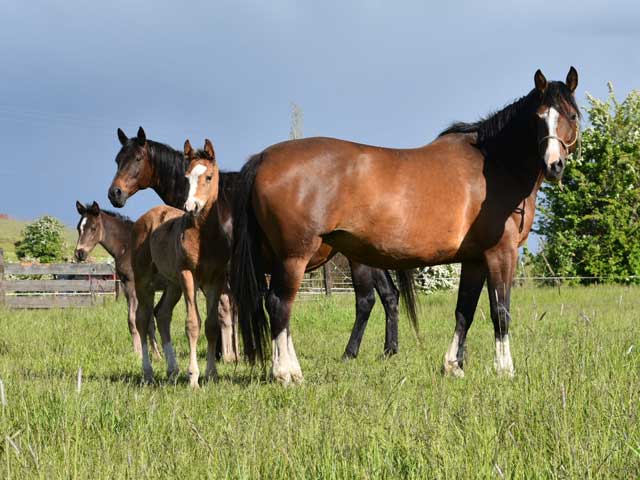 "Stella" 2022 Filly registered KWPN Born 4/10/22, Expected height 16.1-16.3 h Utopie Combina x Countess Carmilla (Lestat)
Utopie Combina KWPN Jacomar x Pherna (Calvados) 16.1 H
Utopie is light type with correct conformation, 56.4% consolidated Thoroughbred performance blood, combining Ramiro Z blood on top with French blood from Calvados on the bottom. A masterful accumulation of performance genes.
Utopie has successful jumping talent on both sides of his family. Sire Jacomar celebrated great success with Marc Houtzager and is one of the top earning Dutch stallions in sport. Jacomar had multiple successes @ ISJ level 1.60m with Marc Houtzager. Dam Pherna competed up to 1.60m as well and scored 9 and 8.5 for her jumping on her IBOP and has made her international debut.
Utopie KWPN Stallion Testing Highlights
Utopie is an honest, trustworthy and friendly stallion with a good attitude. The stallion is very willing to work and works well. The walk has good scope and is pure. The trot has more than sufficient scope. The canter has much scope, much suppleness and good balance. Utopie has sufficient talent for dressage and gives his rider sufficient feeling. The stallion jumps with good take-off and is quick. The foreleg folds sufficiently. He jumps with much suppleness. Utopie seems careful jumping, appears to be easy for him and he shows much scope. Utopie has much talent for jumping and gives his rider a good feeling. Stall behavior, honest, trustworthy stallion that is nice to work with and easy to handle.
Countess Carmilla 2016 CWB (Lestat (Lordanos) x MJ Fusion (Ferro)) 16.2
Countess' sire Lestat is a beautiful, very typey stallion, with excellent rideability, very elastic movement, and a beautiful scopey jump. Lestat is by Lordanos, his offspring are highly sought after not only in the jumper ring but is also the sire of many in the show hunter ring. Lestat will also easily cross over.
Countess's great grandsire on her dam's side is Olympic dressage horse Ferro. Countess has presence, athleticism and a wonderful natural jump. She is a smart mare and her offspring learn to listen quickly as she demands it. She passes on a strong top line, gaits with suspension, her striking markings, strong, correct limbs, excellent self carriage with supreme balance.
2022 filly Stella is a gorgeous Bay dun (same color as the dam, has dorsal stripe line) with four white socks and blaze, balanced and looks to have that wonderful canter from her sire. Bred to go jumping in any arena that appreciates a natural bascule and willing and curious temperament.