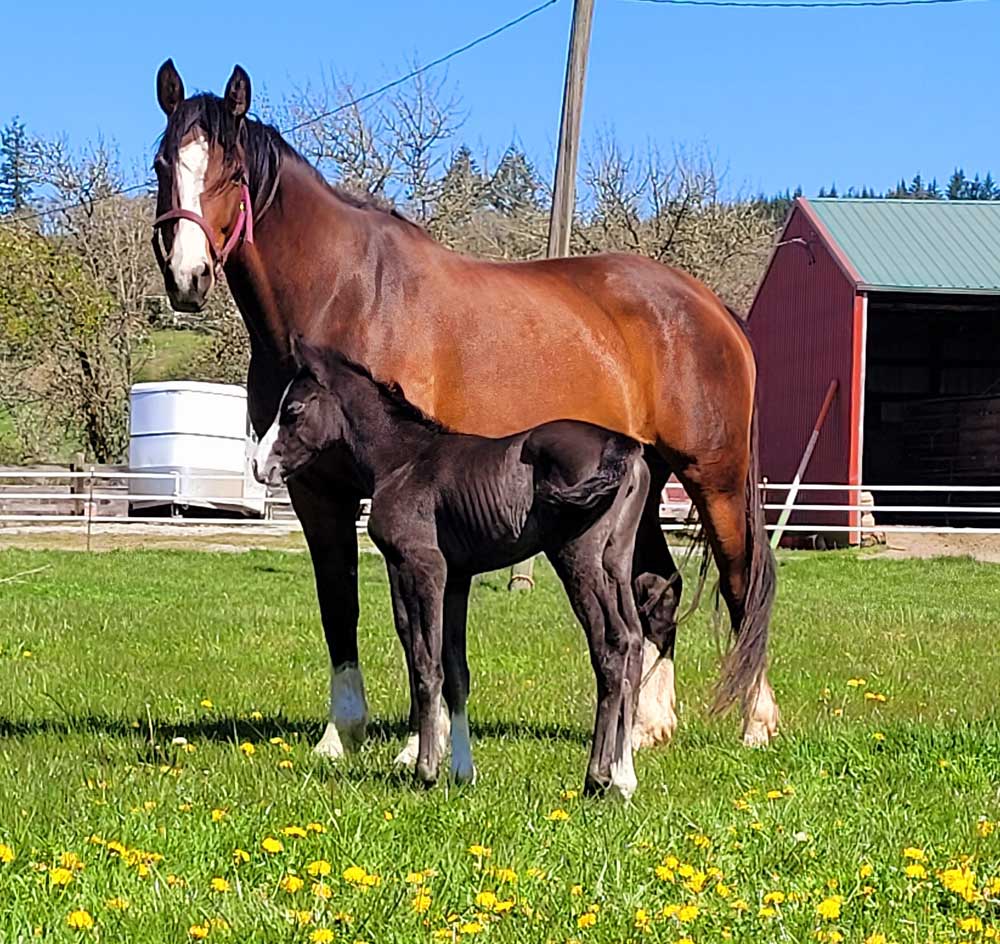 "Clarity" 2021 Filly Registered Irish Sporthorse Born 4/12/21, Expected height 16-16.1 h
Crystal Crest x Countess Carmilla (Lestat)
Crystal Crest – 2005 – Class 1 Registered Irish Draught (RID) – 16.2, 78" girth, 8 ½ " bone – 8.2%(TB blood) Coolcronan Wood (Sea Crest) x Mountain View
About Crystal Crest pedigree: Grandsire Sea Crest was a grade A showjumper himself and sire to the Irish Sporthorse Stallion (ISH) 'Cruising' CSI5* 1,70mt International showjumper. Cruising sired Hoochi Koochi (Spanish team horse at the Atlanta Olympics), Nires(Scandinavian jumper champion), Flexible (ISH ridden by Rich Fellars, the pair won the 2012 FEI World Cup Final and represented the US at the London Olympics).
Crystal Crest has proven himself talented in the show jumping ring as well, achieving Silver merit in showjumping in Ireland up until 6 years old, he was then exported to the USA, first as an event horse, competing to Preliminary level and later returning to showjumping, successfully competing at Grand Prix level.
Crystal Crest achieved Class 1 status, receiving these excellent marks from the judges: 8.5 and 9 for his movement and ability and remarks including "Stands over plenty of ground, a nice topped horse with good head/neck connection, he displayed a good active canter and trot, with power and athleticism in jump and movement, very powerful over his back and open of his haunches." Crystal crest was imported to the US in 2011 only breeding a small number of animals in Ireland before leaving.
Crystal Crest is a modern, exceptional RID who offers an excellent cross to Continental Warmblood, ISH, RID, and TB mares to breed exceptional sport horses for the modern equestrian sports of Showjumping, Dressage and Eventing.
One thing that is so exceptional about the RID is that it started out as a horse that foxhunted across the country, took the carriage to church easily and smartly and then possibly needed to do some farm work in the field as well, so very multi purpose but all require great listening and communication between horse and horseman as well as strength and athleticism.
Crystal Crest is patient and calm when working around him, he is an intelligent horse as well as thrifty, he keeps himself well and is careful in his paddock.
Countess Carmilla 2016 CWB (Lestat (Lordanos) x MJ Fusion (Ferro)) 16.2
Countess' sire Lestat is a beautiful, very typey stallion, with excellent rideability, very elastic movement, and a beautiful scopey jump. Lestat is by Lordanos, his offspring are highly sought after not only in the jumper ring but is also the sire of many in the show hunter ring. Lestat will also easily cross over. Countess's great grandsire on her dam's side is Olympic dressage horse Ferro. Countess has presence, athleticism and a wonderful natural jump. She is a smart mare and her offspring learn to listen quickly as she demands it. She passes on a strong top line, gaits with suspension, her striking markings, strong, correct limbs, excellent self carriage with supreme balance.
2021 filly Crystal Clarity bred for sport this is a fabulous example of a Irish Sporthorse. Clarity has three fluid gaits, natural balance and control as well as natural self carriage, can't wait to see this one jump!